FINCH LODGE HISTORY
Please check back often - we have a lot more to add
Finch Lodge was built in 1923 at Camp Cowles Boy Scout Camp, Diamond Lake, Washington. It was designed by noted architect, Julius A. Zittel. The substantial, craftsman style, post & beam camp lodge overlooks Diamond Lake. Unfortunately, exterior vinyl siding applied in the 1980's currently hides the original clapboard siding and trim detailing. The expansive indoor walls and ceiling are covered by knotty pine tongue & groove paneling installed about 60 years ago. Massive stone fireplaces stand at each end of the space and an amazing balcony with gothic-styled wooden railing runs around the inside of the main hall. Properly restored, this building would be a real treasure for The Boy Scouts of America, Pend Oreille County and the citizens of Washington State. The architect, Julius A. Zittel designed 6 buildings on the EWU campus (Showalter Hall, Monroe, Sutton, etc.), Gonzaga University's Administration Building, Gonzaga's Monaghan Mansion, St. Aloysius Cathedral, and Mount St. Michaels in Spokane. He also designed Kootenai County Courthouse and at least 11 other buildings currently listed on the National Register of Historic Places.
Boy Scouting started in England in 1909 and came to the United States in 1910
Spokane Council was registered in 1915
Camp Cowles was started in 1920 (It is the 2nd oldest Boy Scout Camp west of the Mississippi.)
Finch Lodge was built in 1923
March, 1988, "The Inlander" (Newsletter of the Inland Northwest Council, BSA)
"The Carl Carbon Dining Hall to be built at Camp Cowles when funding has been secured is getting closer. ... Board member Dave Jones has drawn up plans which are now in the hands of architect Warren Heylman, Warren also a board member is donating his services. with a little bit of luck and some more money, we will be on our way. The old Dining Hall [Finch Lodge]? Well plans are to refurbish the old Dining Hall, using it for Cub Resident Camp, training and other youth group activities."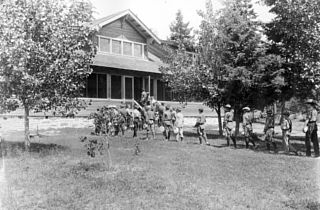 Finch Lodge being used while under construction